Felt Vs. Straw Hat Season is a luxurious accessory that has become a beloved part of traditional Western fashion culture.
They are both highly famed for their ability to add a touch of glamor to any outfit. Unfortunately, tradition has constrained wearers to think these hats only work in summer or winter.
Traditionally, straw hats are better for summer because they are lightweight. Felt hats, conversely, offer better insulation due to their density and are better for winter.
What if you could discard this tradition? This article will show the information about felt vs. straw hat season. You can rock these hats year-round if you have the pizazz!
Table of Contents
Hats Are No Longer Seasonal
Before, people could not wear felt hats in the summer as they were too dense. They could not wear straw hats in the winter because they didn't offer warmth. However, technological leaps have fixed these lapses, and people can enjoy their hats in any season.
Straw Hats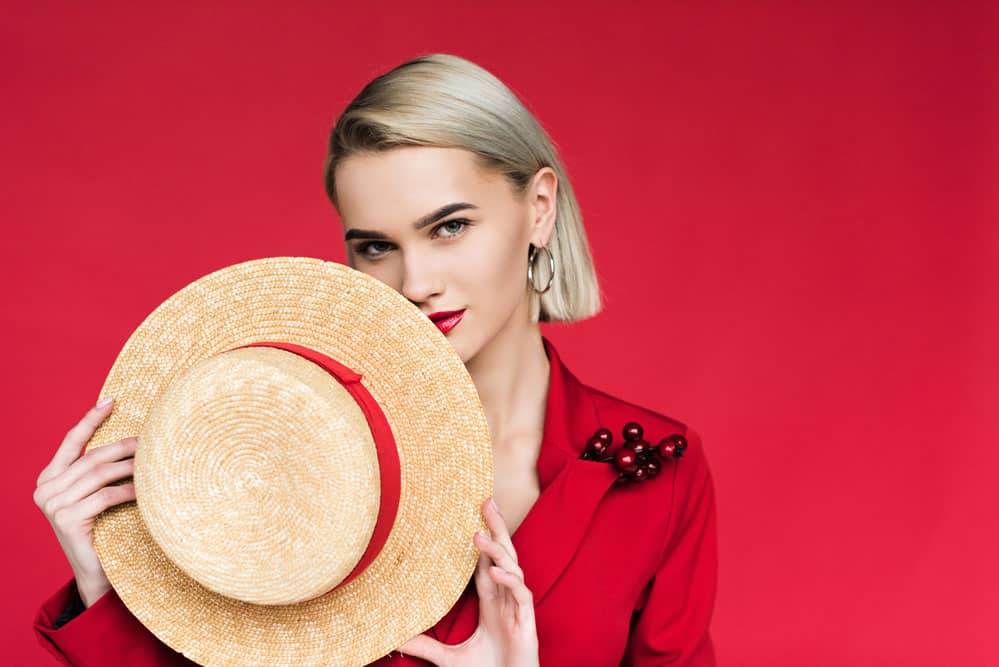 (Girl posing with a straw hat)
Traditionally, straw hats are for when the sun is blazing. Generally, they are associated with warm weather and summer fashion.
However, this tradition has changed with modern fashion trends. With the innovative designs now on the market, it is safe to say that straw hats are no longer seasonal.
There are different straw hats you can wear in and out of summer. Some of them include; boaters, fedoras, and Panama hats.
What Outfits Can You Pair With Straw Hats?
In this day and age, you can pair straw hats with a variety of outfits to create stunning and stylish looks. Summer dresses, jeans, shorts, blazers, and t-shirts are suitable for pairing straw hats.
However, you can pair straw hats with winter or fall outfits (trench coats and leather jackets!). A wide-brimmed straw hat would provide protection and a stylish touch in summer and winter.
Different designers have introduced innovative styles of straw hats which wearers can wear whenever. For example, some straw hats now come with extra features like wool or fur-lined ear flaps.
These features make them perfect for cold weather providing practical warmth, comfort, and style.
Felt Hats
(Attractive woman wearing a burgundy felt hat)
In contrast to straw hats, people often associate felt hats with colder weather and winter fashion. However, with the new designs and innovations, felt hats are now suitable for all-year-round wear.
Felt hats are denser and heavier than straw hats, so people often relegate them to winter use. Since they were thicker than straw hats, people could not wear felt hats in the summer. Fortunately, technological advancement and textile design have made felt lightweight and suitable for year-round use.
What Outfits Can You Pair With Felt Hats?
Presently, designers produce felt hats in different styles, colors, and designs, making them suitable for all occasions. Going for a classic fedora or a wide-brimmed hat will inadvertently add sophistication to your look.
However, a trendy cloche or beret is an excellent choice for a less serious and playful look. Aside from winter coats and scarves, felt hats can now go with sundresses and sandals, depending on the occasion.
Some Basic Knowledge About Cowboy Hats
Before getting excited, learning some basic knowledge about cowboy etiquette and maintenance is crucial.
Cowboy Hat Étiquettes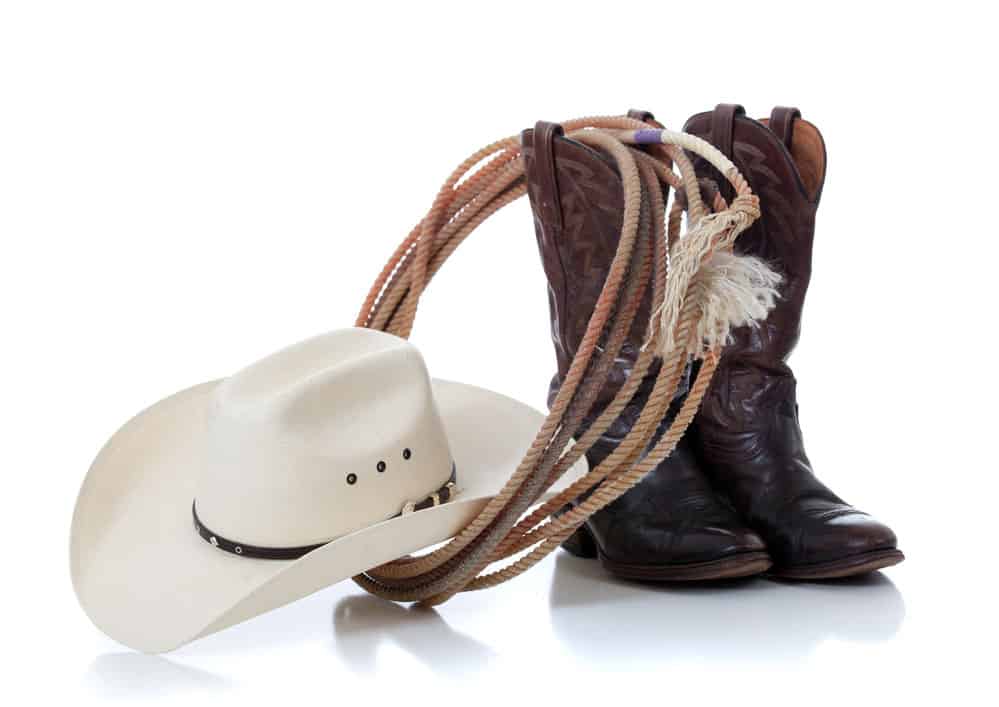 (The Cowboy hat, boots, and lariat)
Cowboy hats are not just any type of fashion accessory. They represent an iconic part of Western tradition. Hence, there are certain etiquette and rules which you must observe as you wear them. Here are some essential cowboy hat etiquette tips:
When indoors, always remove your hat (particularly when entering a building, restaurant, or someone's home).
When meeting someone formally or professionally, it is polite to tip your hat as a greeting.
Do not eat with your hat on your head when sitting at a dining table. Also, place it off the table. Set your hat down (brim-up) on a nearby surface.
Do not knock someone else's hat from their head, even in playful banter. Also, do not touch another cowboy's hat without permission.
How To Care For A Cowboy Hat?
Taking proper care of your cowboy hat is vital to get the best out of it. Below are some tips to help keep your cowboy hat looking its best.
Always store your hat in a cool, dry place. You could use a hat box or a hat rack.
Brush your hat regularly with a soft-bristled brush to remove dirt and dust.
Avoid exposing your hat to extreme temperatures or moisture. Doing this could cause it to lose its shape.
Let your hat air-dry naturally if it gets wet. Resist the urge to use a hairdryer or heat source.
Use a hat-stiffener spray to keep your hat in shape.
Conclusion
(Felt hat in white background)
Along with questions like "can you stretch a felt cowboy hat?" People also wonder which season to wear a straw or felt hat.
While these hats were seasonal attires in the olden days, the world has moved past that tradition.
Recently, you can pull off a stylish look with felt or straw hats, whether summer or winter. Hence, as long as you follow cowboy hat etiquette and care for your hat, you should enjoy your hat all year.